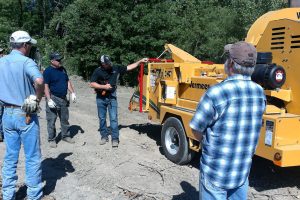 To assist cities, counties, and their divisions in managing yard waste and brush, SCISWA owns a wood chipper that is available for rental at no charge. Any county, city, or municipality within Lucas, Marion, Monroe, and Poweshiek Counties (including Victor, Iowa) and their divisions are eligible.
The chipper accepts tree and brush waste up to 18″ in diameter and can be used by communities to process yard waste and brush collected at community-sponsored sites.
The Wood Chipper Rental Program has several goals:
Increased convenience in locally managing yard waste
Air quality improvement in communities due to decreased burning of organic debris
Reduced environmental impact
More affordable yard waste management programs
NEW!  SCISWA will host a training session for all eligible entities May 13th, 2021.  Details coming soon!
To reserve the wood chipper, please read this wood chipper information. You may also fill out a rental agreement and the rental request. For more information on the Wood Chipper Rental Program, contact Jennifer Frampton at 641-828-8545.
Wood Chipper Availability