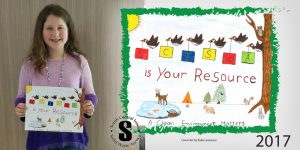 Over 300 posters–created by third, fourth, and fifth grade students in the SCISWA service area–were received for the 2017 SCISWA poster contest. Twenty-five winners were selected to have their posters features in the 2017 SCISWA calendar.
This year, students' artwork showcased the SCISWA environmental management theme: SCISWA is your RESOURSE. Rylie Lawrance, a student in Mrs. Payne's 5th grade class in the Pella Community School District, was chosen as the 2017 winner. Rylie was awarded $100, and SCISWA donated recycling containers in honor of her winning artwork to Jefferson Intermediate School.
"Thank you to all of the students who submitted posters to the contest," said Jennifer Frampton, Agency Program Coordinator. "We're always amazed at the creativity of our area students."
Calendars and prizes were distributed to schools in December. Winners and prizes are available for download here.